---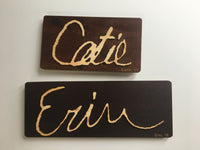 Personalize the boards to show exactly what actual handwriting looks. Great way to preserve your loved one's handwriting. Writing will be shown using two-layer wood. Tactile. For best results, handwriting needs to be done on clear blank paper. 

Perfect timeless gift!

Made to order. These signboards come with sawtooth hangers.
Materials: Poplar wood, birch, stain, glue, sawtooth hangers
Measurement:
   5" height (Writings are about 2" tall)
   10-17" width depending on length of handwriting
   1/2" base with 1/4 thick letters